Blogs
Top 13 Checklist Before Buying a Flat or Apartment in Kerala
04 October 2022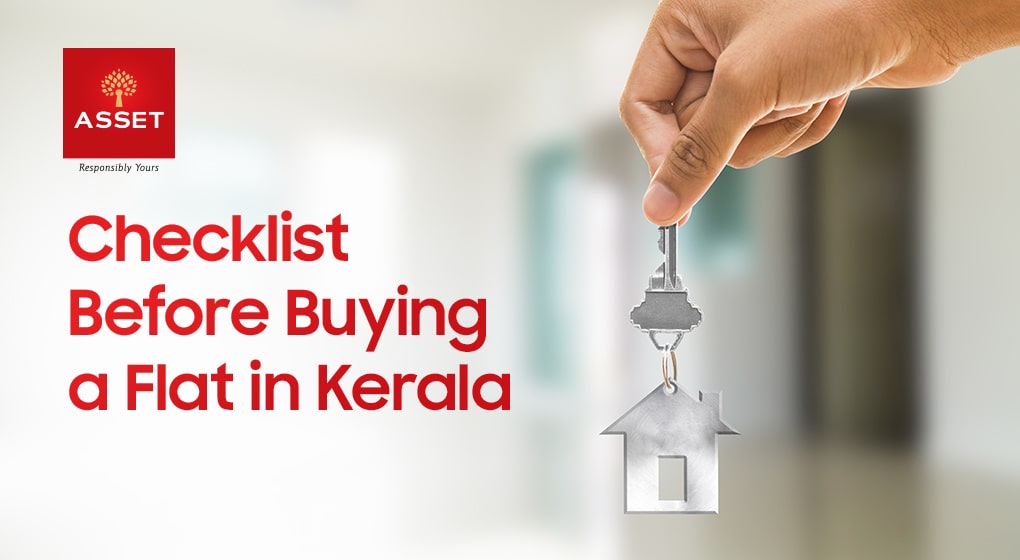 Having your own home is a sound financial decision; property always appreciates in value, and you can sell it at a later date if you are moving to another place. It is also an emotional decision and a possession of pride and prestige. After all, you have a safe haven from where nobody can oust you; a shelter for you and your family. Today, as in the rest of India, people in Kerala are also more in favour of buying an apartment. This offers many benefits like security, managed services, maintenance, common activities, more people around you, and so on. It offers a lot more convenience, especially to young families with little children. 
Today people are spoilt for choice when it comes to buying flats. However, there are certain things to consider before buying a flat in India.
One often sees glitzy ads in newspapers, TV channels and social media, and it's easy to get swayed by the glossy pictures and celebrity endorsements, and blindly make a booking. The real estate industry is booming, but when you're buying an apartment in Kerala, you must thoroughly check out the project and the builder and be sure that everything is in order. You need to make sure that you're getting your money's worth. Often, the glamour may be hiding inferior quality construction. The best apartment projects in Kerala can be found in Kochi, Kozhikode, Thiruvananthapuram, Thrissur, and Kottayam.
If you are wondering what to check before buying a flat, we present a few points below:
Construction Quality
This should be the first item on your flat purchase checklist. If the building is under construction, you can visit the site and see for yourself how the work is progressing. You will also get a fair idea about the quality of materials used and the soundness of the construction. If it is a completed project, have a detailed discussion with the builder regarding the materials. A reputed builder will not hesitate to show you a bill of materials purchased where you can know about the quality from the brand name. Make sure to check the wiring and plumbing, earthing, power sockets, and other factors.
Floor Plan
If the building is still under construction, take a careful look at the floor plan. This will give you a good idea about the layout, bathrooms, doors and windows, utility areas, etc. You can also see how much the actual area is, and how much the built-up area is. This way you know how much you are paying and for what.
Amenities
This is a must in your checklist for buying a flat. Today builders offer several amenities to entice buyers. Check the amenities you are being offered – common hall, landscaping, play area, walking/cycling path, swimming pool, club house, power backup, number of elevators, and so on. Also check the arrangements for fire safety – extinguishers, sprinklers etc. See if the common areas like the parking area, corridors, and lobbies are well lit.
Connectivity
Our flat buying guide would be incomplete without this item! Scout the location of the apartment, and see if you have grocery stores, medical facilities, educational institutions, and other essential services nearby. Is it close to the main road? Can you get public transport or hail a cab or auto easily? Check out all these factors.
Neighbourhood 
Make enquiries about the locality and neighbourhood – is it safe? What is the noise level? What kind of people live in the surrounding area? You can talk to people living there or running small stores. You can also visit the area a few times, at different times of the day to see for yourself.
Car parking
Enquire if there is an adequate parking facility in the building. Ideally, there should be at least one parking space per flat. This is very important, as lack of parking space would mean no safety for your vehicle.
Grounds and Garden
It's good to have some greenery to avoid the feeling of being in a concrete jungle. Does your building have ample green space? Do the children have space to run about and play safely? A landscaped garden or lawn with benches offers the senior citizens some entertainment too. These are all bonus points but they are great to have on your checklist before buying a flat in Kerala.
Garbage Disposal
It is important for apartment buildings to have a proper system in place for garbage disposal, and a sewage treatment plan as well. Garbage piling up behind the building is what happens without a system – this can cause serious health issues.
Security
This is one of the precautions while buying a flat that must be taken. More so if you have elderly people and little children at home. Nowadays, modern security measures like CCTV, alarm systems, and card-based access are implemented in most buildings, in addition to having security guards. Check the main door of the flat: is it sturdy? Does it have a good locking system and a peephole?
Fixtures
Check if the electric and plumbing fixtures used are of good quality. Substandard fixtures can give you headaches later on, as they may leak, break, or cause short circuits. If there is any leakage, ask the builder to fix it, and get an independent plumber to check it before you sign the dotted line.
Water
This is one of the most important questions to ask before buying a flat in India. Check if the building has its own water source or is completely reliant on the Municipality or Corporation water. Is there enough storage facility for the water tank? Water must be available 24/7.
Power Supply
Even in spite of being connected to the national grid, we still have power outages in Kerala. It is therefore essential that you enquire about the power backup arrangements. Especially, you need to learn about what happens if people are in the elevator when the power supply gets switched off. This can become a scary situation, and with little children and aged people, it's even more dangerous. Make sure that the building has more than sufficient power backup so that you are not inconvenienced in any way in the event of power blackouts.
Builder's Reputation
This is a critical element in the flat buying process. Check out previous projects completed by the builder, scan social media for mentions, and ask around in your circle if they have had personal experience or know people who have, with this builder. Are their dealings fair and transparent? Is everything legal? 
Apart from these matters, there are a few documents to be checked before buying a flat from a builder. Make sure all the paperwork is in order. Verify if the project is registered according to the RERA Act, 2016. The Real Estate Regulatory Authority ensures that it is a genuine project and your investment is safe. In the rare event that something goes wrong, you will get back your investment, with interest.
If there are legal problems, you should stay away from such a project even if it ticks all your other boxes. It may become a lifelong headache if the paperwork is not proper.
Let us look at the legal documents required for purchase of property:
The necessary approvals from the local governing authority with regard to building plans

A clear title of ownership or a power of attorney giving the builder the power to sell the apartments

Occupancy certificate issued by local authorities after inspecting the completed building

Approval from Pollution Control Board and the Fire Force – required for occupancy certificate in Kerala

Building Tax receipt

Encumbrance certificate which lists any liability on the land

A no-objection certificate if the building has been constructed on agricultural land

Approvals from relevant authorities:

If the building is in an area marked as CRZ, from the Coastal Regulatory Zone authorities

From the Ministry of Forests and Environment if the building exceeds 20,000 square meters

From the Airports Authority of India if located within 20 km of an airport
Check if the building is owned by multiple partners; if that is the case be sure that there is no dispute among them and that nobody will give you trouble over the sale at a later date.

For under-construction projects check the details of the bank funding the project. It is reassuring when reputed banks are backing the builder.
This is the property documents list of documents most commonly required. There may be some other requirements depending on your city or area. You can always look up the required legalities online on the website of your local governing body.
Asset Homes is one of the most reputed builders in Kerala with several prestigious projects completed, and many more on the way. We build premium apartments, and luxury villas which are thoughtfully laid out and feature superior quality finishing and fixtures. We build homes that will let you live it up, and enjoy a lifestyle you always desired.
Come, take a tour of our projects – book a session now!