News
Asset Homes Wins 3 National Recognitions From Construction Industry Development Council
25 April 2023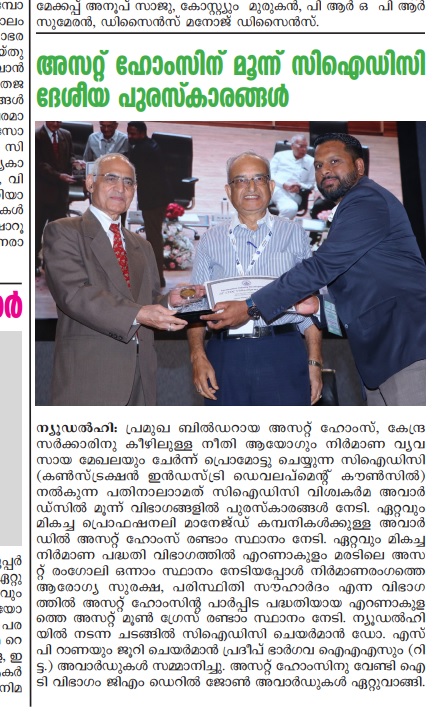 The Construction Industry Development Council (CIDC) has recently awarded three national honours to the renowned Indian real estate developer Asset Homes. The CIDC is a government organisation dedicated to promoting and developing the Indian construction industry, and their awards recognise excellence and innovation in a variety of construction-related fields.
In recognition of their commitment to professionalism, ethical business practises, and strong corporate governance, Asset Homes was awarded the "Best Professionally Managed Company" award in the small and medium business category. This award demonstrates Asset Homes' commitment to maintaining the highest levels of operational transparency, accountability, and efficacy.
Asset Moon Grace received the "Best Construction Site for Health, Safety & Environment" award in recognition of the company's commitment to health, safety, and the environment. This award recognises Asset Homes' commitment to establishing safe and healthy work environments, minimising environmental impact, and implementing sustainable practises.
The Asset Rangoli project received the "Best Residential Construction Project" award in recognition of Asset Homes' commitment to construction excellence. This award recognises the company's exceptional accomplishment in delivering a high-quality, sustainable, and innovative residential project that meets the evolving needs of today's homebuyers.
These national awards from the CIDC demonstrate Asset Homes' commitment to providing innovative and sustainable real estate solutions that meet the highest quality and customer satisfaction standards. With more than a decade of experience in the industry, Asset Homes has established itself as a trusted name in the real estate sector by providing customers with exceptional value through quality construction, timely delivery, and unmatched customer service. These honours serve as incentive for Asset Homes to continue delivering excellence and innovation in the real estate industry and to solidify their position as a market leader.