Flats
Hurry and don't miss the benefits of buying flats before price rise
24 March 2014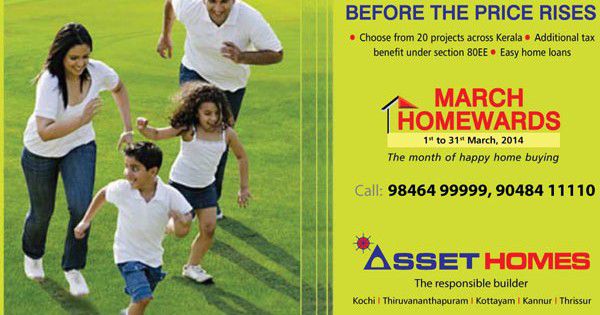 This financial year largely affected the real estate sector and so was the case of apartment price in cochin also. Closing of the financial year in March the price of apartments are expected to grow and this makes March the best time to buy flats or apartments before price rise.
Buying flats and apartments in this month will also help to enjoy tax benefits if you manage to complete your formalities before 31st of March 2014. If you are planning to buy flats or apartments in cochin, rush to avail the additional tax benefits on the amount of interest to be paid on your home loans.  The tax benefits is expected to be around 1 lakh according to Section 80EE and around 1.5 lakh according to section 24 of income tax Act.
You can avail the benefit under section 80EE on buying flats in cochin under 40 lakh and the loan amount is 25 lakh. This provision was introduced in the 2013-14 central budget.  The advantage was offered only for a year to make available a much-desired momentum to housing, which has been strike by mounting interest rates and diminishing real earnings levels.  This Sections can be made effective use by those who are willing to book ready to occupy luxury apartments in cochin at the earliest.
The benefit underneath section 80EE was very supportive to those who were planning to buy their first house.  If the interest to be paid during each  year is less than Rs 1 lakh, the unclaimed amount will be acceptable to be claimed in the subsequent financial year.  Another attraction was that the benefit was also allowed throughout the construction period also..
This is a golden opportunity to own your dream asset before the price rises and make big savings.  Asset Homes offers exclusive offers of gaining maximum benefits and gives you opportunity for you to choose from more than twenty housing projects offering flats and apartments in major cities across kerala including cochin,Thrissur, Calicut, Trivandrum, Kannur and Kottayam.  
So don't waste the golden opportunity to make March a month of happy home buying by choosing your favorite flat or apartment from Asset Homes.  Be quick to contact us since it's already late and only few days remains for closing of this chance and make sure you don't miss that.