Flats
Flats in Cochin – The trend setters of city living
29 January 2014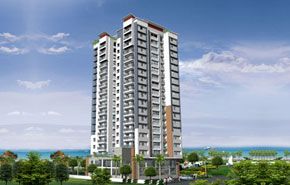 Flats and apartments have became trend setters in most of the crowded cities across India. The demand for these gated communities is increasing day by day in such a way that the apartments are either booked or sold even before launching of the project. This is the same reason that makes residential builders across the nation to come up with more and more projects in various cities.
Why this city life gets more attracted towards the flats and apartments? In the case of Kerala, housing colonies were numerous in number across the cities. Well built groups of houses spread across acres of land in the heart of the cities were common everywhere. But in the recent decades this trend has really changed and there came the increasing number of flats and apartments in Kerala.
Difficulty to find more space for acres spread colonies in the everyday developing cities was the major concern for the revolution of flats in Cochin. The city changed a lot in the recent decades with developments in the infrastructure. Highway sides and major land marks were surrounded by huge buildings and most of them were for business purpose. Finding some space in this top valued regions for residential apartments in Cochin was really a big task.
Even then builders in Cochin was able to find stunning locations for flats in Cochin in envious locations across the city. The number of people seeking for flats in Cochin increased along with launching of various projects by top builders. Easy access to various amenities was major concern of buyers while selecting their flats from the beginning. This fact was well understood by builders in kochi and they were really cunning in selecting the most appropriate destination for their luxury flats.
Major attraction and benefit of flats and apartments is they can fit into a small area where even finding inches are really difficult due to increasing price and demand of land. In cities like Cochin this is the same reason which made the flats and apartments overtook the conventional housing concepts in city living. So we can definitely say that the future housing concepts will be well balanced among flats,apartments and villas.